Welcome to Cambria Hotel McAllen Convention Center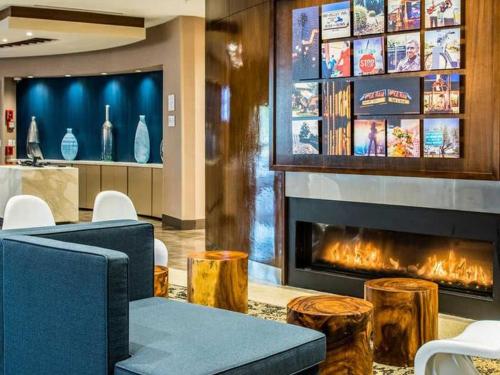 It doesn't matter whether you stay with us once a year or once a month, at the Cambria Hotel McAllen Convention Center hotel in McAllen, TX, you're always a VIP. We make it easy to attend events at the recently developed McAllen Convention Center and enjoy shopping at Simon La Plaza Mall and Rio Grande Valley Premium Outlets. We are within walking distance of Palms Crossing, the city's premier shopping, restaurant and entertainment district. Additional nearby attractions include the State Farm Arena, International Museum of Arts & Science, Palm View Golf Course, Santa and National Wildlife Refuge and Nuevo Santander Gallery.
If you are visiting for business, our upscale but never uptight McAllen hotel puts you near the McAllen Economic Development Center, Keystone Industrial Park, Mission Expressway Business Park and Botelo Industrial Park, among others. You'll also enjoy easy travel to and from the McAllen-Miller International Airport, along with free McAllen hotel airport shuttle service provided by Cambria. Should travel across the border be necessary for your business travel in McAllen, we offer easy access to the Anzalduas International Bridge and McAllen – Hidalgo International Bridge. For additional information on the McAllen area and attractions, visit our things to do in McAllen, Texas page!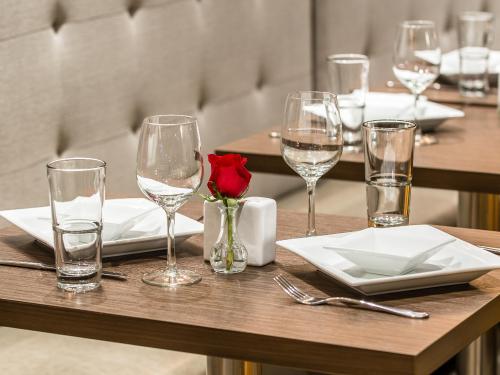 The vibe at our McAllen business hotel is upscale but never uptight. Enjoy a fresh twist on comfort food and local beers made from scratch at our Social Circle bistro. Get snacks and other travel necessities at our 24-hour convenience store GetCetera. Our CustomFit gym offers treadmills, free weights, elliptical machines, multi-workout stations, yoga mats and more. After your work out, relax in our heated outdoor pool or patio with multiple lounge chairs and tables with four seats. There's also a fireplace featuring local art; and our outdoor area also functions as a great spot for social events and meetings. If you are visiting our McAllen hotel for work, you'll love our 24-hour, state-of-the-art business center, boardroom and ballroom.
You'll enjoy the extra-special treatment you deserve, every time you stay from people who are attentive and never stuffy. You won't only be welcomed with a greeting, you'll feel like a VIP no matter how often you stay because our exceptional staff will go above and beyond for you every single day. From our front desk staff and housekeepers, to our events team, chef and bartenders, you'll feel upgraded and tended to no matter what you request. Read our verified Cambria Hotel McAllen Reviews and see why Cambria should be your first choice!
If you're a Choice Privileges member, you can enjoy a faster way to rewards with FlexRewards; Your Extras–extra rewards for midweek stays; digital gift cards; 10 points for every dollar during your stay and the ability to keep your points as long as you stay an active member of the program. When you stay with us at Cambria, we'll even give you a collectable coaster at check-in, good for a free beverage at the bar. Oh, and if you're looking for the lowest price, you can book with confidence because you've found it right here.